ApolloHosting Is Now Verio
Same Great Web Hosting Services -- New Name!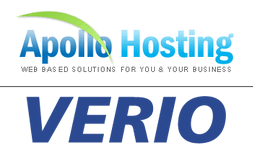 We are pleased to announce that, beginning February 29, 2016, ApolloHosting is changing its name to Verio.
Why the name change?
We believe that small businesses are what drive the global economy --
in other words, you, our customers
-- and for several years now, ApolloHosting has been in the process of transforming itself from a web hosting company to a multi-faceted online services provider.
Our goal is to give our customers the tools they need
to utilize the promise, power and potential of the web, and hosting your website with us is really just the first step.
ApolloHosting's parent company, Endurance International Group, has recently added Verio, an industry-leading provider of online business solutions, to its family of brands. By combining ApolloHosting with Verio, we're hoping to offer the best of both worlds -- Verio customers can take advantage of the superior web hosting infrastructure currently enjoyed by ApolloHosting customers, and
you
will be able to leverage the Verio brand as we continue to develop
our suite of services to help you succeed online
.
IMPORTANT NOTE: You may need to update your email settings.
If you're using apollohosting.com as either your incoming or outgoing email server (
pop.apollohosting.com
or
imap.apollohosting.com
for incoming,
smtp.apollohosting.com
for outgoing), you'll need to change it to your own domain name -- i.e.,
pop.yourdomain.com
,
imap.yourdomain.com
,
smtp.yourdomain.com
.
If you're already using your domain name, no changes are required.
Alternatively, you can use
mailbox.verio.com
as your incoming and outgoing email server, but please note that pop.verio.com, imap.verio.com and smtp.verio.com will not work.
This update only applies to email clients, which download mail to a local device (laptop, tablet, phone, etc. -- be sure to update
all
your devices). Your webmail, which is now located at
verio.com/mail
, is unaffected.
How else will this name change affect me and my ApolloHosting account?
The short answer is that this name change will have
very little effect on you and your account with us
. Aside from the email server path change mentioned above, there will be
no disruption in service
, and we're not going anywhere -- your account will continue to be supported by the same team as always (customer support, systems administration, etc.).
We'll just be going by a different name from now on:
We'll communicate with you as Verio -- please add support@verio-inc.com, billing@verio-inc.com, noreply@verio-inc.com and info@e.verio.com to your address book to make sure future messages don't get caught in your spam filter.


When you contact us via phone and chat, we'll respond as Verio. Not to worry, though -- we'll still answer to ApolloHosting for a while!


Your credit card statement will now say "EIG*Verio/ApolloHosting" instead of "EIG* ApolloHosting."
In terms of managing your account, nothing is changing.
Log into your account at
verio.com/controlpanel
(though apollohosting.com/controlpanel will still direct you there, too), and once you've logged in, you'll see that the control panel is the same -- just with a different logo and color scheme.
Your username and password have not changed.
Your current hosting plan and features also have not changed -- your Verio account retains all of the features and benefits you had access to previously.
Questions or concerns? Let us know!
We're excited about Verio and the opportunities this change will afford you, both now and in the future, but if you have any questions at all, or encounter any issues managing your account, please don't hesitate to
contact us
.
Welcome to Verio!
The new Verio Team (formerly your friends at ApolloHosting)
---